Click here to download our flyer
COterie DAnce in partnership with Danspace offers:
Performance Intensive 2021
for dancers ages 13 – 18
Taught by Kimberly B. Valmore, CODA Company dancers and Danspace Staff. Includes classes in Ballet, Modern Jazz, and Hip Hop. Participants will learn Repertory to be presented with in a virtual presentation on August 14.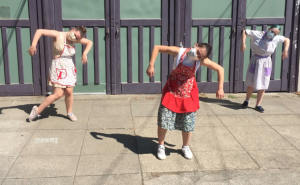 July 5 to July 31, 2021
3:00pm – 8:00pm (PDT) Monday, Tuesday, Wednesday, Thursday
11:00am-12:30pm (PDT) Saturday
Classes and rehearsals will be held on Zoom
Tuition: $650
This performance Intensive will culminate in a virtual dance presentation with COterie DAnce Company on Saturday, August 14 at 2:00pm.
Some in person rehearsals will be scheduled by direct communication with parents or guardians, scheduled upon approval and with safety protocol in effect.
This Intensive is designed to build strength through technical training applied to learning repertory and developing performance skills. 
To enroll: email info@danspace.com
We accept payment by check or credit card.