Spring Forward
by Claudine Naganuma, Danspace Director
As we start to think about getting back into the studio, I am very excited to share that we have installed a sprung floor into Studios Two and Three at Danspace. This floor hosted many of the dance greats through Margaret Jenkin's Choreographers in Mentorship Exchange (CHIME). Inspiration in our dance field gets passed on from one artist to another. I feel honored that our floor is infused with the creative and genius spirit of so many dancers who have worked upon it, such as Joanna Haigood, Erika Chong Shuch, Nina Haft, Robert Moses, Jess Curtis, Jose Navarrete, Ellen Sebastian Chang, Amy Seiwert, and so many more. Many thanks to the Margaret Jenkins Dance Company who donated their floor to us. Thank you to Paul Dresher who helped to organize the crew to move this amazing floor to Danspace. Thank you to Beth and David Hoge, to Greg Eby and John Gomes who have helped to transform our studios during the time of COVID.
This specialized sprung floor created just for dancers serves as a wonderful metaphor: just as our new sprung floor provides buoyancy and resilience to support us as we jump and land, we can summon our own buoyancy and resilience as we bounce off of this challenging time and back into the dance studio.
We cannot wait to re-open our doors to you and share our new sprung floor while dancing together in person.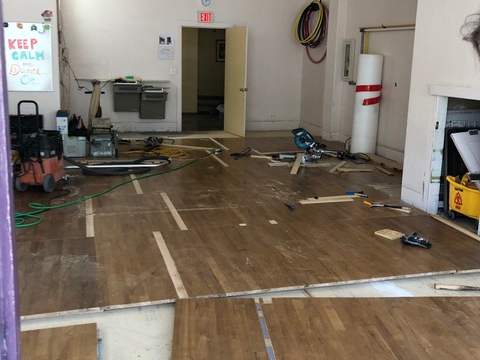 Studio 2 under contruction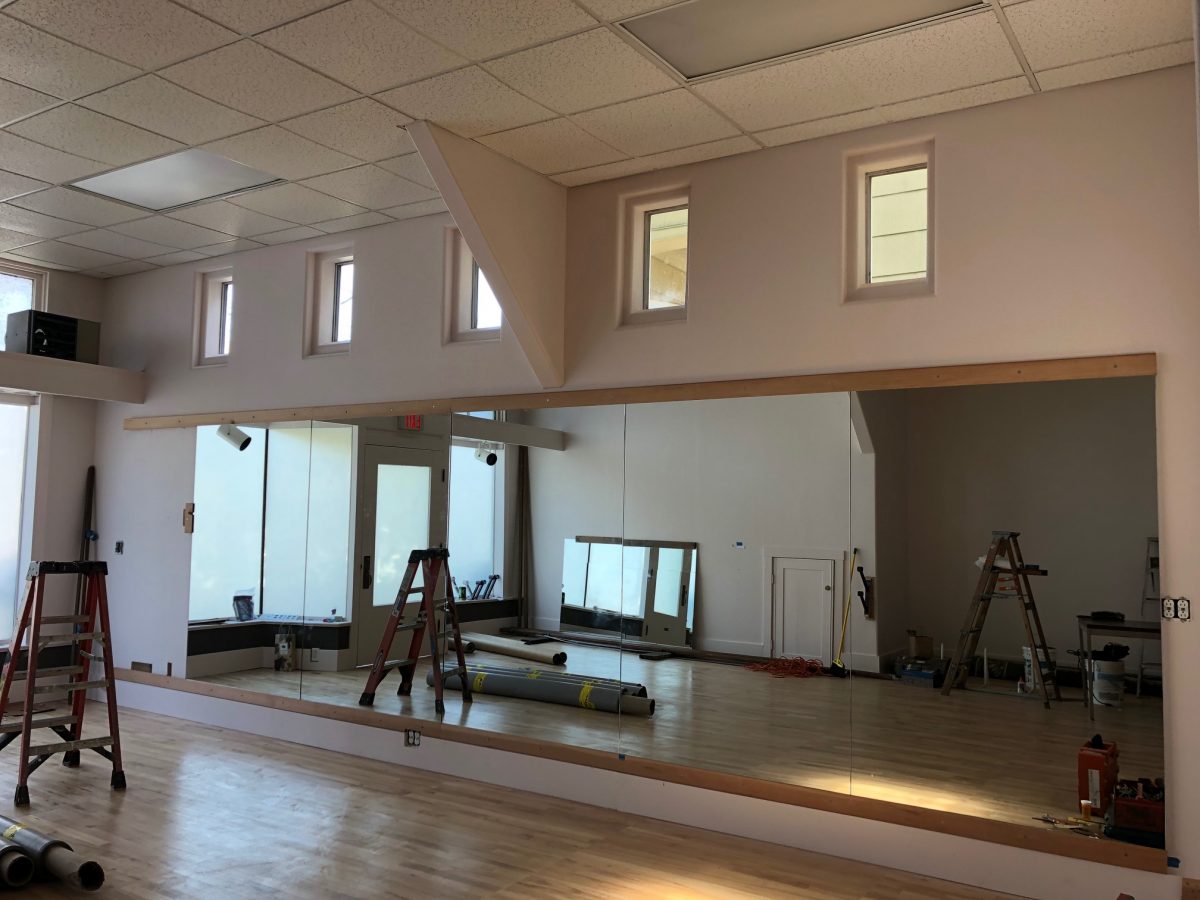 Studio 2 with new floors and mirrors!
Consider writing a review of Danspace on Yelp
If you're a person that uses Yelp, please consider reviewing Danspace. Our students find us all kinds of ways, and having testimonials from our community is a huge asset to keep our studio alive and thriving.
As we prepare for summer and fall, we'd love to welcome new students to class. Please invite your friends and loved ones who you think would love dancing to contact us!
Children's & Youth Division
Closed for Spring Break Monday, March 29 – Sunday, April 4.
No Children's or Youth Division classes will be held.
Save your spot by March 29!
Email info@danspace.com
Summer enrollment is open and we want to know if you will be dancing with us. We understand that there might be some limbo with choosing summer activities. We appreciate your email letting us know if you are considering our dance program in your summer plans.
The current status for Alameda County will be changing over the next few months as vaccines roll out and things start to open up. We expect that most of our summer programming will be on Zoom, but we are gathering information to identify safe outdoor spaces in hopes of having an in person component to our workshops. With the ever changing information, we anticipate being able to update you on this format decision in late May and appreciate your flexibility in understanding as plans change.
Last year we adapted our workshops to a virtual format and had a great time connecting on screen.
Take a look at our visual arts exploration
Take a look at our choreography exploration
Danspace donates to school fundraisers!
Danspace is happy to support your school event by donating gift certificates for classes in our adult division. Email info@danspace.com with your fundraiser request.
Schedule your makeup classes by April 24!
You are welcome to pre-makeup if you know you may miss class toward the end of the series. If you have any questions about what classes you should consider, please email us. Check out our schedule. (Note: there will be no intergenerational classes held the week of March 29-April 4, but Adult Division classes will still meet.)
Summer class information coming soon!
Our Summer schedule will be available in early April. Beth is offering a virtual intensive June 21-25. Learn more and email us to register.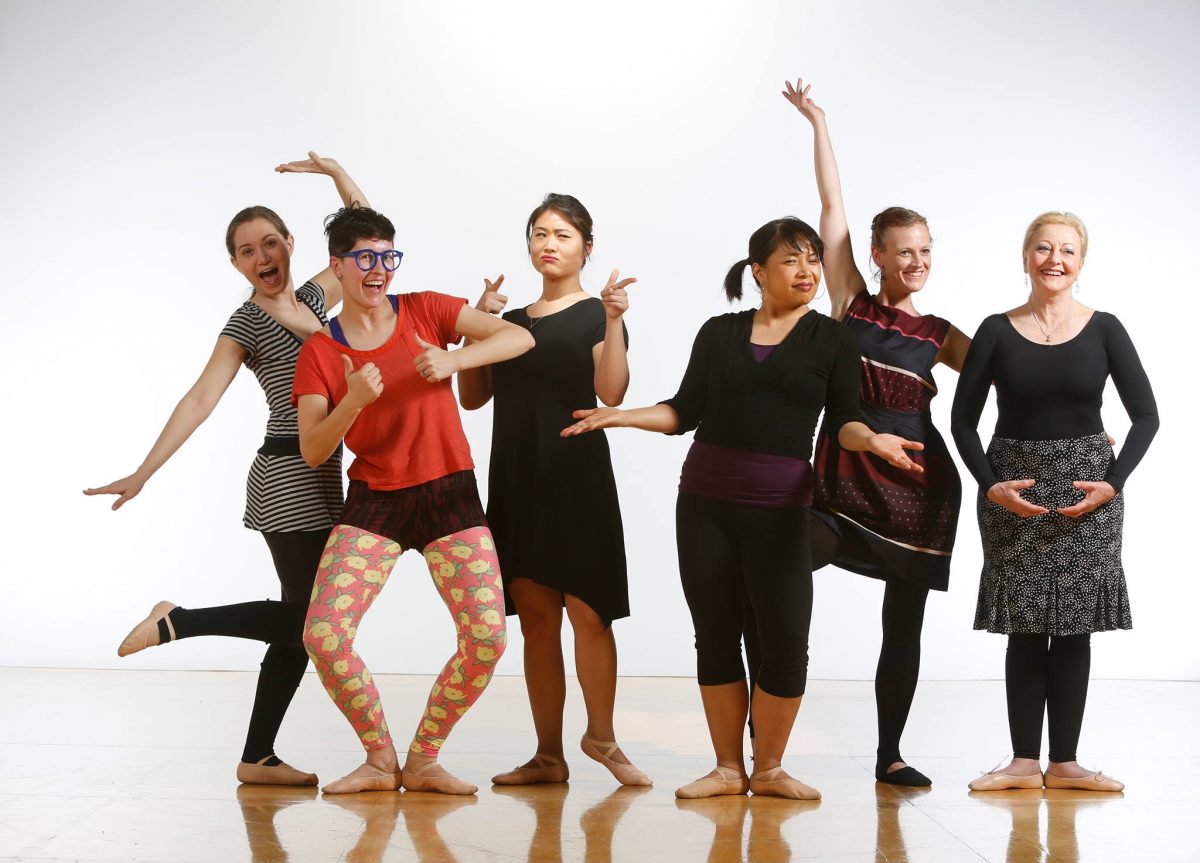 Celebrate dance with Danspace on May 2
The Adult Composition class is presenting their work on Sunday, May 2 at 4pm. This event is free to attend but your RSVP is required. You can RSVP here or email info@danspace.com.
While we know County guidance has changed to allow for 10% capacity indoor use for dance studios, it makes the most sense for our small studio to stay virtual to finish out the spring semester. We will continue to do our best to find ways to stay connected to each other.
We continue to follow County updates and are researching safe gathering places and options for potential in-person experiences in the summer and fall. This may include pods to meet in person, and your class will be contacted when that becomes a possibility.
Our plan is to continue to offer virtual and/or hybrid options as we move forward, even as in-person options begin to expand in the hopes that everyone will continue to be able to dance in the ways they feel safest.
As always, you can contact us with any questions, and we will continue to provide updates as we're able to share more.
See you on zoom!
The Danspace team
This past year has been challenging for everyone, and arts organizations are struggling. Danspace has been committed to continuing to pay our teachers and staff, and your support continues to make that possible.
If you're able to, please consider making a contribution. You can contribute to Danspace directly or make a tax-deductible donation through our resident company, dNaga. Click here for contribution options and please contact us if you'd like to support our school at a different amount.
Thank you for all the ways you make Danspace so vibrant and special!