This summer we were inspired by the remembrances of John Lewis, and his quote (below) inspired part of one of our summer workshops. It also inspired this reflection from our school's director, Claudine Naganuma.
I think my whole life has been one of sort of daring, and sort of sailing against the wind instead of just going with the wind. – John Lewis
I've had the great honor of being part of the Danspace community for the past twenty years. The welcoming spirit of the school's founder, Beth Hoge, and her desire to bring dance to every-body has been a cornerstone value of the school. I am proud that Danspace has been the home to Dance for PD® since 2007. Founded by the Mark Morris Dance Group in partnership with the Brooklyn Parkinson's Group, Dance for PD® is now in over 300 communities all over the world. Here at Danspace, we offer free weekly classes every Thursday morning bringing the art of dance to those with Parkinson's disease.
Parkinson's disease is a progressive neurological movement disorder that is both idiopathic and without a cure. Its main characteristic is bradykinesia which is a slowness of movement which may include weakness, rigidity and tremor. One would think that dance would be the last thing to help alleviate symptoms, and yet the very things that we employ in dance have a profound impact on people with Parkinson's. The poetic imagery and musicality that we use to execute movement sequences is the very thing that can also assist in alleviating, even if briefly, the symptoms of Parkinson's. The feeling of shame and isolation that can sometimes accompany a diagnosis can also be directly addressed by the connectivity we get from dancing together as an ensemble. I have learned a great deal from these dancers about courage, tenacity and resilience. They do not allow the disease to stop them from living their life. On the contrary, they dare to dance!
To learn more about Dance for PD® at Danspace please visit here.
Claudine Naganuma
Danspace Director
Photo courtesy of PD Active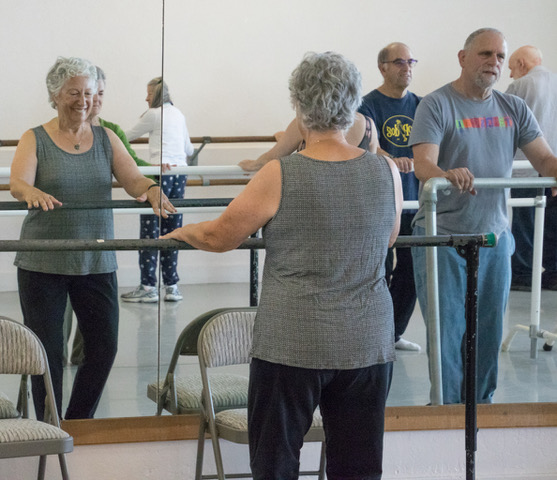 Children's and Youth Division
Our fall semester began on September 14. We are so happy to see our new and returning students on the Zoom screen!
There are some spots available in select classes: Serendipity on Monday, Pre-Ballet on Monday, Ballet 1 on Thursday, Modern Jazz for ages 8-12 and Composition for ages 8-12. Email info@danspace.com to get more information or enroll in a class. Tuition is pro-rated to the date you start class.
Pre-Ballet and Serendipity parents — current class schedule isn't working? Hoping to have class at an earlier time during the week or on the weekend?
We will consider a late-start fall session for classes that have 5 or more students ready to enroll. Email info@danspace.com to let us know if you are interested in starting a class for your child and friends.
All classes will be held on Zoom.
Please pass this information on to your friends who are looking for an Arts Enrichment experience.
Does your school, neighborhood, parent group, etc have a newsletter? Consider submitting a blurb about Danspace!
Danspace offers classes beginning at age 3.5 to adult.
Our Fall 2020 programming is virtual, and we welcome dancers that live nearby and far away – zoom allows us to connect from anywhere!
Find our schedule and enrollment information on our website. We welcome dancers of all levels of experience and all ages, and our knowledgeable faculty specialize in offering a supportive and caring environment to make dancing at home fun and safe.
If you need support in selecting the right classes for you or your child, please contact us – our administrative staff are happy to help.
Danspace believes in the power of multigenerational dance education. From our resident company, dNaga Dance Company, to our workshops and other classes, Danspace is proud to offer dance experiences that give the young and not-so-young the opportunity to collaborate and move together.
Our first series of the 2020-2021 year is underway, adding Ballet Fundamentals, Composition with Mary Armentrout, and Pointe/Pre-Pointe Conditioning back on our schedule. Learn more about our offerings and please contact us to sign up (it's always a good time to join class!).
Makeup classes for Series 1 must be completed by October 31
Schedule your makeup classes anytime! You are welcome to make-up any missed classes this session. If you have questions about the right class for makeups, please contact us.
Makeup classes are a great opportunity to test a new class! Curious about Modern Jazz? Intergenerational? Come for a makeup class to help you decide if you might like to enroll.
Private Lessons at Danspace
We believe that private lessons are a good tool to give individual attention to the dancer in order to look at alignment, strength, flexibility and dynamic quality, which is very important when we talk about building technique, as well as to see where there are opportunities to focus on areas that need special attention.
These lessons benefit students in Ballet 1 through the Adult Division and are 1 hour in length.
If you are interested in purchasing a private lessons package or want more information, email info@danspace.com.
Thank you so much for everyone sending in or dropping off their checks. A quick reminder about tips for writing a check, now that we're virtual:
Please try to not sign or write over the routing number (since deposits are digital, sometimes we are not able to process checks if the routing number is obstructed).
Write in blue or black pen (colorful ink and/or markers can be hard for the machines to read)
Don't forget to sign your check!
If we were in person, our staff would be able to catch these in real-time with you, but since we're all virtual, we may have to mail your check back to you. Thanks so much for your time and effort to get your checks submitted!
Dancers' Group publishes In Dance, a magazine celebrating Bay Area dance, and Danspace is highlighted on page 30, along with a great photo of some of our youth division dancers.
Until next time, dare to dance, to dream, to create, to be inspired. We'll find ways to manage and thrive during these difficult times together, in community.
See you over zoom!
The Danspace team